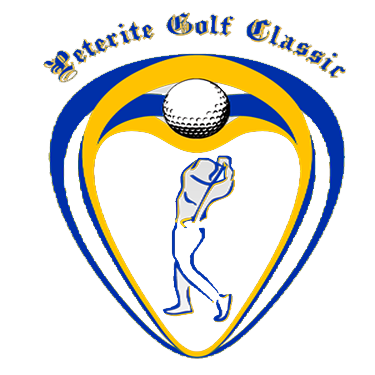 "Lend a Heart and Lend a Hand" - excerpt from the St. Peter's College anthem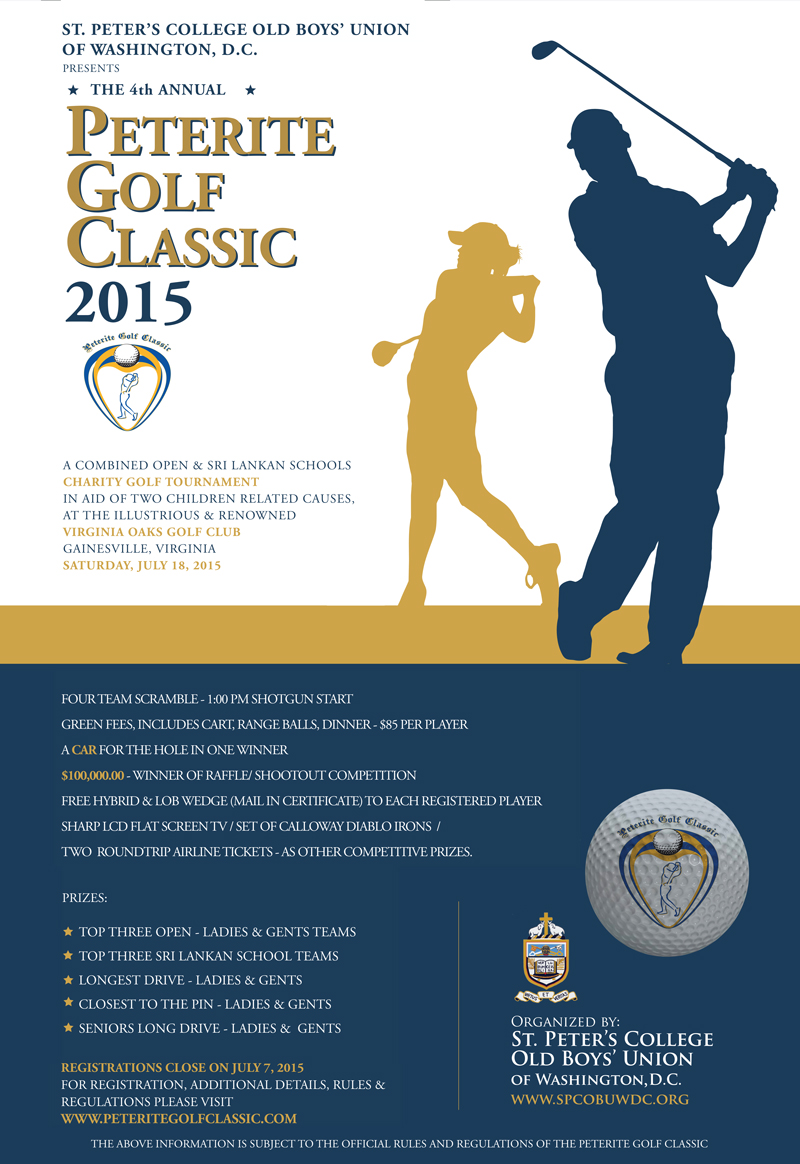 The PGC - 2014 Open winners:
1st. Place – AOL#2   - Score 60

Paul Repola, Andrew Braksator, Mike Heffner, Mario Hoo


2nd. Place - AOL – A&F   - Score 64

Joe Bobek, Michael Johnson, Brent Penfield, Nate Switzer


3rd. Place – TEAM COSTELLANOS   - Score 64

Dino Tortorelli, Jay Bardon, San Sridharan, Jorge Castellanos

1st. Place - St. Peter's College - Gold     - Score 69

Dakshi De Silva, Erik Somasundaram,Trevor Somasundaram, Gaddafi Ismail


2nd. Place - Royal College   - Score 70

Khattab Markar, Logan Thiran, Namitha Jayatilake Suma Samaranayake


3rd. Place - Wycherly International  - Score 72

Vasanth Dhanaraja Radesh Menon, Amirtharaj Dhanaraja Nirushan Sathi

Individual Competition Winners:
| | |
| --- | --- |
| | Senior Mens Long Drive – Trevor Somasundaram |
| | Senior Ladies Long Drive – Dr. Seemah Rajapaksa |
| | Mens Long drive – Erik Somasundaram |
| | Ladies Long drive – JoAnn Jony |
| | Closest to the Pin Men – Bill Johnson |
| | Closest to the Pin Ladies - NO WINNER |
Gallery
The Peterite Golf Classic 2014
PGC 2014
The memorable and challenging Virginia Oaks golf course designed by the acclaimed P.B. Dye with the picturesque Lake Manassas wrapping around some of the holes, was the venue of the third annual Peterite Golf Classic charity golf tournament organized by St. Peter's College OBU of Washington D.C. on Saturday, May 17th in Gainesville, VA. The pleasant 70 degree weather coupled with the light breeze was ideal playing conditions for local golfers, those from the tri-state area and even across the pond; their team aptly named "London Eye."
The two beneficiaries of this years PGC charity golf tournament will be St. Peter's College Career Guidance Center in Colombo 4, Sri Lanka and the Kennedy Krieger Institute in Baltimore, USA.
This year the shotgun start time was moved to 9:00 am to enable golfers more time to enjoy the breakfast and loosen up at the driving range and putting green. As in past years very attractive prizes were offered by SPCOBUWDC to any of the hole-in-one winners with the marquee prize being the Nissan 350 Z coupe. There was also a $ 100,000.00 hole-in-one shootout prize to the raffle ticket winner.
The event was conducted by the PGA staff of Virginia Oaks and was well attended by players and guest. The award presentation followed the buffet lunch.
SPCOBUWDC, the organizers of the PGC charity golf tournament thank all players, advertisers and sponsors for their participation and support at this years event and invite well-wishers to visit the website - www.peteritegolfclassic.com for additional information and financial contributions.
Please look out for PGC 2015 in the future.
Open champions


1st. Place – AOL#2  

Paul Repola, Andrew Braksator, Mike Heffner, Mario Hoo / 60


2nd. Place - AOL –A&F  

Joe Bobek, Michael Johnson, Brent Penfield, Nate Switzer / 64


3rd. Place – TEAM COSTELLANOS  

Dino Tortorelli, Jay Bardon, San Sridharan, Jorge Castellanos / 64

Schools Tournament
1st. Place - St. Peter's College - Gold    

Dakshi De Silva, Erik Somasundaram,Trevor Somasundaram, Gaddafi Ismail, , / 69


2nd. Place - Royal College  

,Khattab Markar, Logan Thiran, Namitha Jayatilake Suma Samaranayake, , /70


3rd. Place - Wycherly International 

Vasanth Dhanaraja Radesh Menon, Amirtharaj Dhanaraja Nirushan Sathi /72

1. Senior Men Long Drive – Trevor Somasundaram
2. Senior Ladies Long Drive – Seemah Rajapaksa
3. Men long drive – Erik Somasundaram
4. Ladies Long drive – JoAnn Jony
5. Closest to the pin Men – Bill Johnson
6. Closest to the pin Ladies - NO WINNER