ABOUT ATAXIA-TELANGIECTASIA (A-T)
"Ay-TACK-see-uh Teh-LAN-jick-TAY-sha"
Children with A-T are born perfect and seemingly healthy – with limitless potential – until compromises are forced on them by this debilitating deadly disease.
is a rare genetic disease
attacks in early childhood
progressively affects coordination
predisposes patients to fatal cancers
severely compromises the immune system
Children with A-T are …
as rare as one in 40,000 births
from all races and ethnicities
usually unable to walk by age 10 and
may not survive their teens and rarely survive their twenties
Carriers of mutated copies of the A-T gene are approximately 1 per 100 individuals in the general population.
Compared to the typical population, the cancer rate of children with A-T is 1,000 times higher, and the cancer rate of carriers can be up to 4 times higher.
Public health implications of ataxia-telangiectasia research
Unraveling how the A-T protein works has shed new light on cancer, metabolic syndrome, and HIV/AIDS
Understanding why brain cells get sick and die in A-T could provide insight as to why brain cells die in other neurodegenerative diseases such as Parkinson's and Alzheimer's disease
YOUR SUPPORT MAKES A DIFFERENCE - RARE DISEASES
There are roughly 5,300 human diseases known by molecular basis and about 500 have treatments, says the National Institutes of Health. Rare diseases, like A-T, often don't have medicines, in part because many drug companies don't want to make risky bets on the small markets they represent. However, through research work supported and coordinated by A-T Children's Project and thanks to grassroots fund raising efforts of friends and families of A-T, new advances were made in research over the last decade but more work ahead.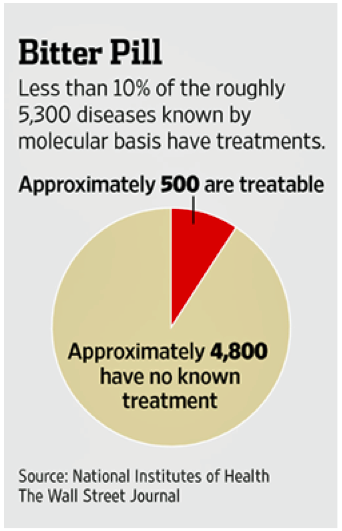 GOALS OF A-T CHILDREN'S PROJECT
Find life-improving therapies and a cure for ataxia-telangiectasia
Encourage and fund first-rate scientific research directed toward developing therapies for A-T
Support the A-T Clinical Center at Johns Hopkins Hospital in Baltimore, Maryland
Increase awareness of A-T to help properly diagnose affected children
AREAS OF RESEARCH FUNDED BY THE A-T CHILDREN'S PROJECT
Discovering how the A-T protein works in brain cells to uncover ways to fix those lacking this protein
Screening thousands of compounds  to find potential new drugs to help A-T
Neuroimaging to reveal abnormal brain function in A-T
Developing rating scales to measure A-T, helping power efficient clinical trials
Developing human cell and animal models for A-T to aid drug discovery and development   
Conducting studies to improve the quality of care for people with A-T at the A-T Clinical Center at Johns Hopkins Hospital